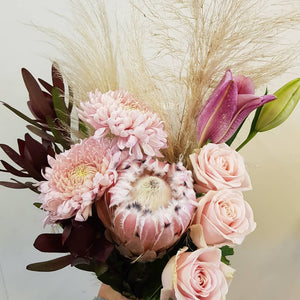 ** LUXE COLLECTION **
This is part of our luxe collection which means the blooms used are a bit more special and are arranged in a tighter formation.
Mix of pink seasonal blooms including protea, leucodendron and toetoe when in season. Flowers may differ to actual picture.
If there is not a price you are wanting please don't hesitate to call us and we can make something to what ever your price range is.
Pictured is a Medium
Please note the small version of these will NOT have a protea included.